Jodhana Courtyard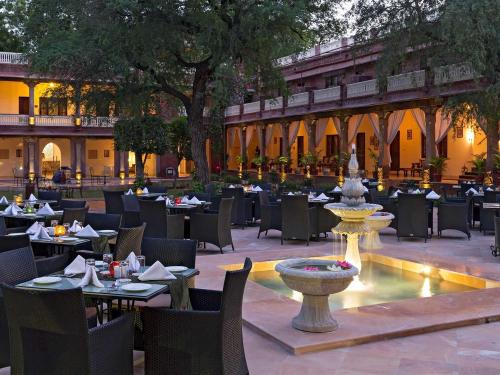 Romantic Restaurant in Jodhpur:
Jodhana Courtyard pays homage to the culinary and cultural arts of colonial Marwar. This contemporary cafe transforms after dusk into a romantic restaurant complete with candle light and mellow rajasthani tunes.
Spread around a traditional marble fountain in the central courtyard, Jodhana Courtyard also features cultural performances by traditional langa singers and kaalbelia dancers. To know more about the Gala evenings & dinners, click here.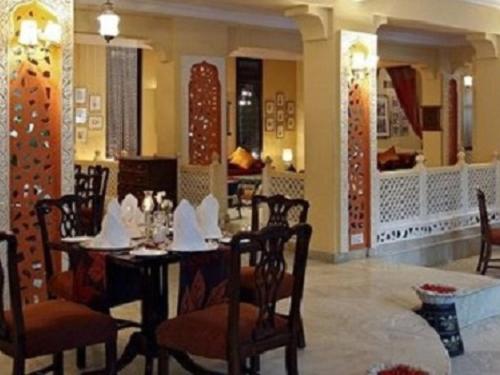 Panchranga is a multi-cuisine restaurant offering continental, oriental & Indian cuisines. This 150 cover air-conditioned indoor dining space offers lavish buffet spreads and a comprehensive à la carte menu.
Inspired by the five colours of Jodhpur's flag, Panchranga features old motifs and art forms renderred by an expert kaarigar. The Laal Maans here is outstanding but you must try the galouti kebabs and pasta as well.
Cultural Evenings in Jodhpur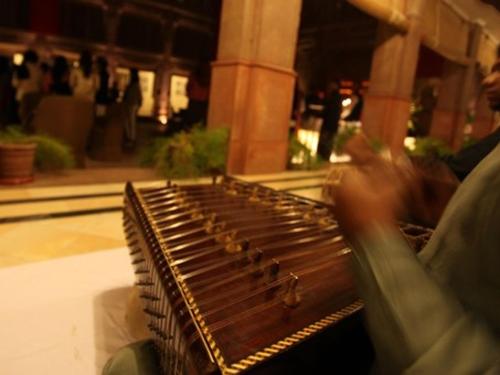 Guests can also enjoy the cultural evenings from the Chabutra, which includes a lively hotspot surrounding the oldest tree in the courtyard, traditional low seating next to the baradari and another laidback space below a canopy of leaves and lights.
The Chabutra is a great place to hangout and spend some 'me' time, especially during high tea. Freshly made goodies from our in-house bakery are served here in the evenings.
Rajasthani Baithak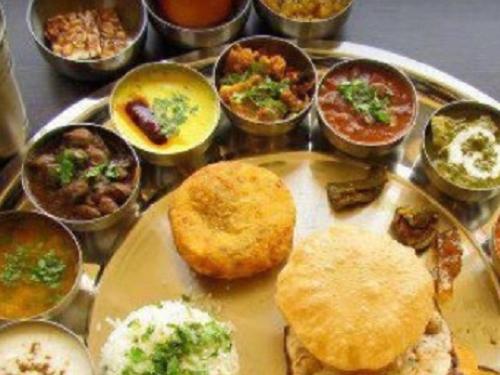 Replete with traditional bajots and gaddi massons, the Rajasthani Baithak is an ideal setting for experiencing the famous Ranbanka Thali. No visit to Jodhpur is complete without this traditional meal, prepared by second generation chefs of the Royal family.
The baithak also features live service of a wide variety of barbecued veggies and meats.
The Polo Bar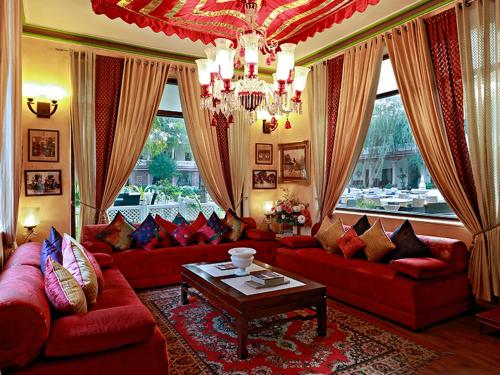 This lounge showcases a curated collection of Polo trophies and memorabilia, amassed by the royal family over generations.
Choose from a fine collection of wines and spirits or let our expert bartender rustle up a delicious cocktail to suit your taste.
Bespoke Experiences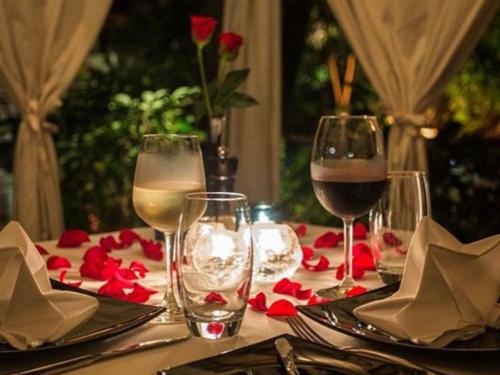 Private dining in Jodhpur:
Choose from the many cozy nooks, discreet terraces, pool facing open air lounges and private alcoves in the hotel. Our team works closely with you to design a customized menu and set the service protocols for your big date.
With breathtaking views of Mehrangarh fort on one side and Umaid Bhawan on the other, the roof is a popular choice. As is the baradari. Please plan and book your bespoke dining experience in advance